Mathovore.fr is a website dedicated to math education. We offer online lessons for K-12 students, as well as resources for teachers and parents.
Our goal is to make learning math fun and accessible to everyone. We believe that everyone has the potential to succeed in math, regardless of their starting level.
There are different ways to succeed in junior high school, high school, and elementary school. The first and most important is to understand the fundamental concepts in mathematics and make sure you have mastered them before moving on to more advanced topics. This can be done by following class lectures carefully, asking questions when you don't understand something, and working regularly on worsheets and homework to practice what you have learned.
Working regularly and in an organized manner is important for success in junior high school, high school, and elementary. You can use online math worksheets and textbooks to help you understand the concepts and techniques needed to succeed in this subject.
You can also access online lessons and review sheets to help you better understand the most difficult lessons and topics. It is also important to ask your teacher or a tutorial for help if you are having trouble with your math studies.
Our online lessons are designed by experienced instructors and cover a wide variety of topics, from basic numbers and operations to equations and graphs. We also provide practice exercises to help students strengthen their problem-solving skills.
In addition to our online lessons, we also offer resources for teachers and parents, such as lesson plans, assessment tools, and tips to help students succeed in math.
We hope you enjoy your experience at mathovore.com and that you find the tools and resources you need to succeed in math. If you have any questions or comments, please do not hesitate to contact us. We are here to help you.
Mathovore has been voted the best free online math tutoring site. With a team of more than 12 teachers who are members of the French national education system and who are growing every day, our goal is to help you progress in mathematics throughout the school year with resources written by teachers and totally free.
On the site, you have access to more than 2,000 lessons and worksheets entirely corrected and detailed forelementary school students (5th grade, 4th grade, 3rd grade, 2nd and 1st grade) through junior high school school (6th grade, 7th grade, 8th grade and 9th grade) then high school (10th grade, 11th grade and 12grade) and finally bachelor's degree in higher math, special math and for students in bachelor's and master's degrees as well as candidates wishing to take the CAPES in mathematics or the agrégation.
You will find all the lessons and lessons of the official program of the national education in math but also exercises similar to your textbooks from publishers like Nathan, Sésamaths, Hatier or Bordas.
Filling in the gaps and developing skills is possible with consistent and serious work throughout the school year.
Thousands of resources ranging from lessons to exercises, but also interactive MCQs to test your knowledge or dynamic figures made with the Geogebra geometry software.
Exercise your brainpower with the many open problems taken from mathematics competitions such as the Rallye Transalpin (RMT) or the Kangaroo competition.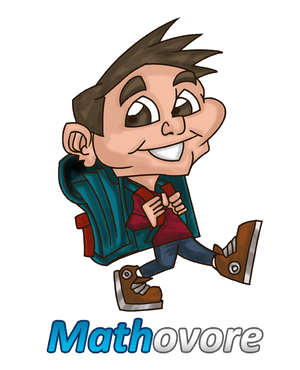 New technologies being more and more present and the official programs emphasize more and more on programming, develop your knowledge with the scratch or algobox software by carrying out the various exercises, activities or missions to be realized.
June is just around the corner and it's time for the 2023 math patent or 2023 bac S tests. Revise online with all the subjects of the DNB of the colleges or the baccalaureate S of the previous years published in Metropolitan France, in Pondicherry in India, in North America, in Lebanon or in the foreign centers
If you are having difficulties solving an exercise or a homework assignment, ask for help on the math forum and you will receive a quick answer from the teachers who are administrators of the forum or from the various members who are active there.
Do you have a test or an assignment due this week?
Mathovore has proctored homework topics for all levels from middle school to high school so you can prepare and review online.
---
Math lessons to print in PDF.
Access the different lessons in junior high school (6th grade, 7th grade, 8th grade, 9th grade) and high school (10th grade, 11th grade and 12th grade). These lessons are in accordance with the official national education programs.
Mastering the content is essential before tackling the different applications and situations proposed and respects the official programs of the national education.
---
The math worksheets to download in PDF.
Hundreds of worksheets of all kinds with increasing difficulty, open problems and exercises with initiative to allow students to develop their skills (research, calculation, representation, modeling, argumentation, reasoning) in junior high school and in high school.
All of these exercises have their own answers so that the student can identify mistakes and improve afterwards.
Many lessons and exercises similar to your textbook through a totally free site for students and teachers. Develop many math skills by reviewing online to progress and increase your grades throughout the school year as where resources for students and teachers are very diverse.
Review all the chapters of the official education program where different teachers put, on a regular basis, many online resources allowing visitors and members to review and practice online.
Cette publication est également disponible en :
Français (French)
Español (Spanish)
العربية (Arabic)
---
Other forms similar to math : lessons and worksheets with solutions to download in PDF..
---
70

Ejercicios de matemáticas en 1º de primaria sobre probabilidad. Ejercicio 1 - Probabilidad y conjuntos numéricos Ejercicio 2 - Ejercicio de probabilidad

69

Ejercicios de matemáticas en 1º de primaria sobre estadística. Ejercicio 1 - Estudio de una clase y su profesor Ejercicio 2 - Salario mensual en una empresa Ejercicio 3 - Media y mediana de una serie estadística Ejercicio 4 - Series estadísticas y publicidad Ejercicio 5 - Estudio de dos…
---
Les dernières fiches mises à jour.
Voici les dernières ressources similaires à math : lessons and worksheets with solutions to download in PDF. mis à jour sur Mathovore (des cours, exercices, des contrôles et autres), rédigées par notre équipe d'enseignants.
---

On Mathovore, there is 13 704 158 math lessons and exercises downloaded in PDF.